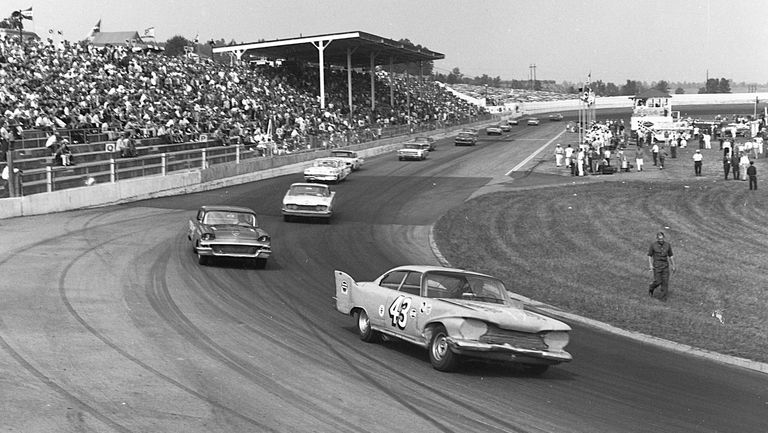 Two things I've liked since the first time I've seen them are 1960 Plymouths, and The King – Richard Petty. I was six years old when I saw my first 1960 Plymouth. My dad worked for Avis Rent-a-Car, and brought a 60 home one night. I was a very car savvy kid and my Dad was a Desoto man. Prior to that, a 58 Desoto (the lady down the street had one) had been my favorite car. It was a couple years later that I watch my first recap of a NASCAR race on Wide World of Sports, and Petty was both a Plymouth man, and a winner.
As I write this, I have a fairly extensive collection of Richard Petty memorabilia – although I must admit that I've recently lost a lot of respect for both Petty and NASCAR over the Bubba Wallace deal – and all of the "Wokeness". He was the Greatest of all NASCAR drivers, and started out as an acceptable Owner after retiring as a Driver – but he's really only a shell of his previous self anymore.
Researching Petty's 1960 Plymouth, I found that there were very few quality photos from the era of the car. Complicating it further is that the car had a couple different looks and sponsors. Some photos show the car with a white cove on the front fenders, some show it the same as the body color. There are many variations of the wheels too.
There have been quite a few recreations of the car, most are way over done with chrome, trim and many coats of clear. Each of the interiors of the recreations were different, and I've never seen an interior photo of the original. That said, my Tribute is also not exactly true to form either. My car is a "Post" (2-Dr Sedan), while the Petty car was a hardtop. My Interior is far from a recreation of the Petty car, as I changed directions to the Petty tribute after I'd done the Interior.